Chiropractor Dr. Ron Siscoe D.C.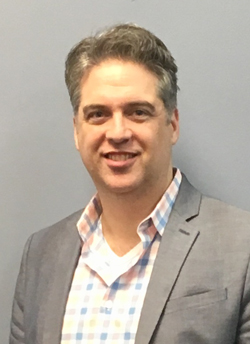 Dr. Ron has been practicing for 16 years, and takes a multi-faceted, individualized approach to each patient's care. He earned his Bachelor of Arts degree in Biology from University of Maine, before heading to the New York Chiropractic College to complete his doctoral degree. He has worked extensively with other medical professionals, including primary care physicians, physician's assistants, and other chiropractors. Dr. Ron firmly believes in not only healing and strengthening, but improving the overall quality of life for each and every patient. He thoroughly enjoys the outdoors and mountain biking with his son.
---
Chiropractor Sahfi Goldenberg D.C.
Dr. Sahfi is a graduate of New York Chiropractic College. Dr. Sahfi likes to offer her rehabilitation services in a warm and inviting healing center offering chiropractic services, massage therapy, home care counseling, and additional adjunctive physical therapy. Our doctors work with each other utilizing teamwork to better serve our patients. During personal time Dr. Sahfi enjoys the beach.
---
Joseph Carchedi, MD ABIHM ACN
Dr. Carchedi began his career as a physician in Internal Medicine and Emergency Medicine.  He later added Sports Medicine by providing medical support for professional cycling teams like Motorola in the mid 1990s, Dr Carchedi decided that he wanted to give that type of specialized, tailored care to non-athletes.
Dr. Carchedi has over 20 years of clinical experience in the emergency room, and now he specializes in Executive Health and Functional Medicine.
Having practiced for the last ten years in this realm, he transitioned into Integrative Complementary medicine exclusively and has been concentrating on detoxification and nutrition. He tailors individualized programs for all of his patients, combining aspects of traditional and functional medicine to maximize their performance and health, given their demanding lifestyles.
"Patients today are well informed and I encourage them to ask me questions so that together we may find therapies that will optimize their health and well being."
A avid cyclist, who was on the medical staff for the professional cycling Tour of China and the Tour DuPont, Dr. Carchedi knows the importance of maintaining a balance between the multitude of stressors executives face and the healthy lifestyle necessary for optimal performance. Dr. Carchedi has lectured in the United States and Italy on the role nutrition plays in stress management and corporate decision making.  He is a consultant for Novartis Italy and C.E.O. of the Vita Nova Group, Inc. as well as the founder of the Blue Bell Wellness Institute.
Dr. Carchedi a board certified physician holds medical degrees both in the United States and Europe, and received his undergraduate degree from Pennsylvania State University.
Dr. Carchedi addresses and treats issues with immunity, disease prevention, and energy problems such as fatigue, hormonal imbalance, women's health, cancer issues, weight management and IV nutritional therapies. These topics and many more are resolved at Blue Bell Wellness Institute.
---
Kelly Wong, MSN, CRNP
Kelly is driven to help people feel better in their bodies and thrive through a healthy lifestyle. She is a board certified Family Nurse Practitioner with a passion for integrative medicine and holistic, wellness care. She earned a Bachelors of Science degree in nursing at Johns Hopkins University, where she served as the president of the student government and volunteered in community health programs assisting elders and preschoolers. She pursued a Masters of Science degree in Family Health at the University of Pennsylvania, where she also received a scholarship to specialize in Occupational and Environmental Health. Prior to nursing, she earned a Bachelors of Science in Marine Biology at UCLA and has been SCUBA diving ever since. Kelly is also a registered yoga teacher, who recognizes the strong connection between mind and body, and aims to serve clients wholly through medicine and movement.
---
Sheri - Office Manager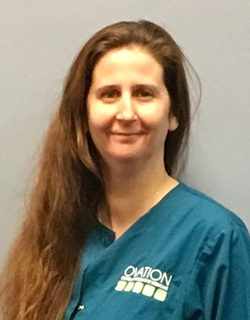 She has many years experience with patient relations and education and is our insurance billing expert. She has worked in the Fairway Shopping Center since 1989, lived in the area since birth and is a graduate of Upper Dublin High School. She graduated Cum Laude from Temple University in 2001 with a B.A. in Psychology. Sheri is here to assist each and every patient any way that she can. She is a mother of twin boys and enjoys how excited they get when she tells them "It's time to go see Dr. Ron to get adjusted!"
---
Tina - Front Desk Chiropractic Assistant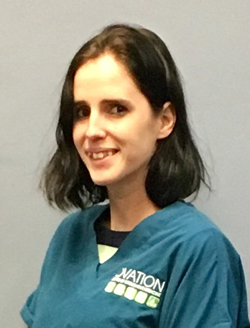 She has just recently moved with her husband and 2 children here from New Jersey.
---
Kimberly Paul - Licensed Massage Therapist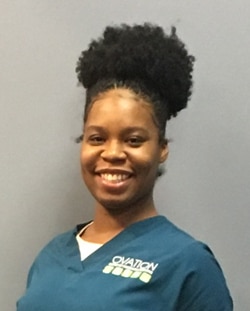 Kimberly Paul is professionally licensed massage therapist who has practiced in both Pennsylvania and New York. After earning her BS in Public Health Behavioral Science, she went on to Swedish Institute College of Health Sciences located in New York City and received an Associates Degree in Occupational Studies; Massage Therapy. While finishing her program she focused on advanced western techniques and now practices a wide range of modalities such as sports, myofascial and trigger point release therapies in order to meet the individual needs of all her patients. Kimberly has been practicing massage for over 5 years and truly enjoys helping people live a holistic lifestyle with less pain. In her personal time Kimberly enjoys cooking for and spending time with friends and family.
---
Tyler - Wellness Coach, Medical Assistant, Chiropractic Assistant
Tyler is a certified wellness coach, medical assistant, chiropractic assistant, and integrative medicine student at Arizona State University. He is working at becoming a physician's assistant. He has a strong belief in chiropractic as a vehicle to release the body's innate abilities. Mindfulness, herbology, nutrition, and other holistic measures have had a vast impact on his life. He enjoys sharing these holistic concepts with everyone he meets. Tyler loves spending time with his family, meditating, Flyers hockey, and writing folk songs.
OFFICE HOURS
---
Monday
9:30am - 1:00pm
3:30pm - 7:00pm
---
Tuesday
3:30pm - 7:00pm
---
Wednesday
9:30am - 1:00pm
3:30pm - 7:00pm
---
Thursday
9:30am - 1:00pm
3:30pm - 7:00pm
---
Friday
9:30am - 1:00pm
2:00pm - 5:00pm
---
Saturday
Closed
---